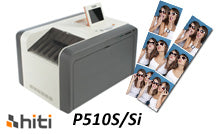 Update: This procedure will also work for the HiTi P510L
Are you having trouble printing 2×6 photobooth strips with your HiTi P510S Photo Printer? We have noticed that some of the HiTi P510S Printers ship with an older driver CD that does not include the option for the 2×6 strip. Fortunately, there is an easy fix – cruise on over to the HiTi website and download the correct driver for your operating system and install it on your computer. (Please note this quirk: with Windows 7, make sure the printer is not plugged in and powered on while installing the printer driver.) After you install the driver, you will see there is an option for "6×4 Split (6×2 2 prints)" – see screen shot below. Select that paper size in order to print two 2×6 photo strips. If you are using a photobooth software, such as Breeze, the print size needs to be selected in the print driver as well as in the software.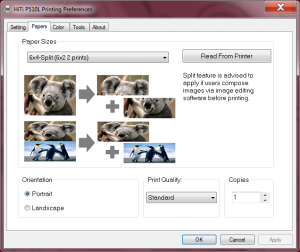 Of course, if you have any questions, feel free to shoot me an email.
Thanks,
Bill