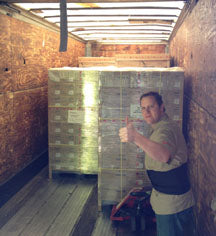 UPDATE February 6, 2012
Most items are now in stock with the painful exception of 2UPCR204 4×6 media for the Sony UPDR200 Printer. We are a getting small shipments of 204 here and there from DNP. The best thing to do is to call or go online and get an order in our queue. If you have any questions about 204 or any other media availability please call and speak with one of our customer service reps.
UPDATE December 13, 2011
Finally! 2UPCC14 in stock. We received a big enough shipment last week to fill most of our back orders. We are now accepting new orders! Call today to order, 800-342-9294 – or order online.

UPDATE December 5, 2011
2UPCR155 shipment in today so we now have 5×7 media for the Sony UPDR150 printer. DNP seems to be having some manufacturing difficulties with 4 inch media – we still have no ETA on 2UPCC14 for the Snaplab and UPCX1 printers or 2UPCR204 for the Sony UPDR200 printer. We have 5×7 for all three if you can make that work.
UPDATE November 4, 2011
HiTi 4×6 media 87.PBE02.10B for the HiTi 510 series printers hit the warehouse today!
UPDATE October 31, 2011
We finally received a decent sized shipment of 2UPCC14 today but not enough to cover all of our backorders. We hope to start shipping new 2UPCC14 orders in mid November. We are doing our best to get through our call list – if you have a backorder in our queue, give us a call and we'll strive to get your order out asap. We also received 2UPCC48TS, enough to fill new orders. We have about a 2-3 day supply of Sony 2UPCR154. We are out of 2UPCR155 but should have more in a few days. DS40 4×6 media, DS40PK46, is looking good. HiTi 4×6, 87.PBE02.10B is slated to hit our warehouse Friday November 4. Mitsubishi 4×6 and 5×7 media SKUs for the 70 series and 9800/9550 series are in good shape too. Thank you for your patience. Please contact us if you have any questions.
UPDATE October 11, 2011

I can't believe it is October and we are still talking about media shortages from DNP. 2UPCC14 is trickling in, but we still have many back orders to fill before we can start filling new orders. The other problem SKU right now is 2UPCR204 4×6 for the Sony UPDR200. ETA is the week of October 17, 2011. We now have 2UPCR206 6×8 media for the UPDR200. We're in good shape with regards to DNP DS40 and DS80 supplies. HiTi is looking good right now although 4×6 is looking a little tight in November. Mitsubishi is in good shape as well. Please comment below if you have questions or concerns.
UPDATE August 22, 2011
We now have Sony passport media in stock. Both 10UPCX46 and 10UPCX34 is now in stock and available for new orders.

UPDATE August 18, 2011
2UPCC14 for the Sony UP-CX1 and Sony Snap Lab is still in very short supply. The good news is that we are getting regular, albeit very small, shipments of this media. The bad news is that the quantities we are receiving are nowhere near what we need to fill all the back-orders we have. Another problem sku is 10UPCX46 4×6 media for the Sony Passport System UPCX300. We have depleted our inventory and we have no ETA at this point from DNP. We do have 3.5×4 Passport Media in stock 10UPCX34. We are also out of 2UPCC48PF 4×8 print pack for the Sony UPCX1. Everything else is looking pretty good. If you have questions about any supply issues, please don't hesitate to give us a call, 800-342-9294 or email.
Thank you for your patience!
UPDATE July 12, 2011
The good news today is that we now have 5×7 media, DS40PK57, for the DNP DS40 in stock. We also now have plenty of 8×10 media, DS80PK810, for the DNP DS80. The bad news is that DNP pushed 2UPCC14 back again. We will be lucky to see some the first week of August. The same goes for 2UPCR154 and 2UPCR155 for the Sony UPDR150. Our recommendation? Check out the HiTi P510L – the closest printer on the market to the original best seller – the Sony UPCX1 which Sony discontinued in February. AT $799 the HiTi P510L is a great value, cost for a 4×6 is only 16¢ and it will produce 2×6 strips, popular for photobooth operators. If you have any questions about the current DNP inventory situation or any photo printer related questions, please don't hesitate to contact us at 800-342-9294.
UPDATE June 21, 2011
We received a short update communication from DNP today. Nothing really has changed. DNP is still way behind on 2UPCC14. DNP is hoping to to get more 2uPCC14 in the US the week of June 27 which means it may get to us by the beginning of July. We do have 2UPCC15 in stock if you can make that work. We got a little bit of 4×8 in for the CX1, but not enough to cover all the back orders. 2UPCR154 and 2UPCR155 for the Sony UPDR150 are still a problem as well. DNP is hoping to ship 154 by the beginning of July, 155 isn't on the schedule until late July. A new issue we have run into is 5×7 and 8×10 media for the DNP DS40 and DNP DS80 printers. DNP is back ordered on both but the good news is you can use DS40PK68 6×8 for the same cost per print as 5×7. Similarly you can use DS80PK812 8×12 media for the same cost per print as the 8×10. Read more about this on a related blog post here.
UPDATE June 8, 2011

2UPCC14 and 2UPCR154 finally hit our warehouse yesterday. Unfortunately, the amount is not enough to fill all the orders we have in our queue. The good news is that the factories in Japan are ramped up now and media is once again flowing into the US. DNP, in their weekly update yesterday, told us that they are expecting another shipment into the US this week that includes 2UPCC14 and 2UPCR154. We're not sure yet when it will get to our warehouse but we'll let you know here when we do. Please note that we have plenty of 2UPCC15, 2UPCR204 in stock. No mention of 2UPCR155 or 2UPCR205 but we are trying to get a handle on those today. Standby. Thanks again for your patience, please send us an email or call if you have any questions.
UPDATE June 2, 2011
2UPCC14 and 2UPCR154 are actually in transit to the Imaging Spectrum warehouse. We should receive our shipment late on Monday June 6 and will start shipping orders Tuesday June 7.  The bad news is that the quantity coming in will not be enough to fill all back-orders. DNP, in their update communication this week, did assure us that they expect to "greatly reduce" back-orders on these two SKU's the week of June 13, so we should have another shipment coming in later this month. A photobooth customer told me today that he bought a box of 2UPCC14 this week from a dealer for $165 plus shipping – OUCH! Our price is still $89. If you can just hang in there a little longer or get by with 5×7 2UPCC15, we should be "back to normal" soon. Thanks for hanging in there with us.
UPDATE May 26, 2011
A follow up to the update below – DNP's shipment of 2UPCC14 has been delayed. It is now expected to hit the US on Tuesday May 31. We are still hopeful that we will receive our shipment by
Friday June 3.
UPDATE May 25, 2011
Regarding 2UPCC14: DNP America is scheduled to receive a shipment of 2UPCC14 into the US this week. DNP will then allocate and ship product to US dealers. If all goes as planned we should receive a shipment late next week. We will immediately begin to fill orders for 2UPCC14 in the order they were received. At this point we have no idea how much product we will receive. Regardless, it will not be enough to fill all of the backorders in our system. If you have an order in our queue, we will contact you before we ship your order. If you have any questions feel free to call or email. Thanks again for your patience as we all work together to get through this mess.
UPDATE May 11, 2011
Yesterday, May 10, the board of Imaging Spectrum met with representatives from DNP. You should be reassured by the fact that several of the team members overseeing the transition and new product development at DNP are former Sony executives. The new team has a good handle on and are very dedicated to this marketplace. In addition, while many are not familiar with the name, DNP is the largest manufacturer of thermal transfer ribbon and paper in the world and their IMS group (Information Media Supply Division) provides ribbon and paper to other printer manufacturers worldwide.
That said, we are not out of the woods yet. Some popular sku's including 2UPCC14 2UPCR154 and 2UPCR205 remain on backorder. The good news is that we are starting to see the light at the end of the tunnel. Factories in Japan that were damaged by the Tsunami have been restored and are back in business, we are now waiting on product to make it's way to the US. Furthermore, DNP has invested heavily in their factory in North Carolina and began manufacturing some SKUs there this week. DNP representatives are empathetic to the situation and are bullish that we will be out of this darkness sometime in July.
Imaging Spectrum is doing its best to be open and transparent regarding this issue. Please be assured that once we start receiving back-ordered product from DNP, we will fill orders in the order they were received. Also, unlike some of our competitors, we will keep our prices steady. We have had to raise a few prices by a few percentage points due to higher prices from the Manufacturer, however, Imaging Spectrum will never, ever price gouge. We have also designed a trade in program for any customers that are forced to get into a new printer now. Of course, as always, please call or email if you have any questions. Thanks!
UPDATE May 10, 2011
Reps from DNP are on their way for an afternoon meeting and dinner with Imaging Spectrum board. Stand by…
UPDATE May 3, 2011
There is good news but it will still be a few weeks before we are out of the woods. Below is information and excerpts (in italics) from the communication we received from DNP today, Tuesday May 3, 2011.
Sony 2UPCC14 4×6 Media
The situation is not good but DNP is getting there…
"This week, we received the good news that 2UPCC14 … will go into full DNP production in the next week or two."
Imaging Spectrum was told to expect a shipment the week of May 23rd. We do have 2UPCC15 in stock and we expect to receive more that week. We are kicking around the idea of offering a UPCX1 trade in program. We won't be able to offer much but if it is something you would be interested in click here to send me an email and I'll put you on our list.
Sony UPDR150 Media
I know a lot of you have been waiting a long time for 2UPCR154 (4×6) for the UPDR150 printer. We do have 5×7 in stock and here is what DNP had to say today about 4×6…
"Production will start next week on the UPDR150 medias, 2UPCR154 (4×6) and 2UPCR156 (6×8). That's great news!"
Many of you have been holding off on the purchase of a refurbished Sony UPDR150 printer because of the lack of 4×6 media. We have plenty of UPDR150 printers and 5×7 media ready to go, hopefully we'll see 4×6 within a couple of weeks.
Please click here to read the email update I sent out to Imaging Spectrum's Sony customers today.
UPDATE April 26, 2011
Imaging Spectrum received a shipment of Sony printer media yesterday, Monday April 25. This allowed us to fill many back orders. The communication from DNP today assured us that their engineers are "working furiously to accelerate the scheduled production of Sony printer media." Many media types are already in production. The one sore spot is 2UPCC14 4×6 media for the Sony Snap Lab and Sony CX-1. I am sorry – I know you photobooth operators especially are hurting over this one. DNP is in the QA phase on this item and will begin production "soon." Any order for 2UPCC14 in our system will be filled in the order it was received as soon as possible. Please click here to read the email update I sent out to Imaging Spectrum's Sony customers today.
Please don't hesitate to call us at 800-342-9294 if there is anything we can do for you or if you have any questions.
UPDATE April 20, 2011
The email update that came in Tuesday evening from DNP did not really bring much news. The good news is that we have confirmed that we are receiving another small shipment Monday April 25.
The shipment will allow us to fill all back orders for the following:
2UPCR204 – 4×6 Media for Sony UPDR200
2UPCR205 – 5×7 Media for Sony UPDR200
The following items are in stock and looking good for now:
2UPCR155 – 5×7 Media for Sony UPDR150
10UPCX46 – 4×6 Media for Sony UPXC300
10UPCX34 – 3.5×4 Media for Sony UPXC300
The following items are out of stock, here are the ETA's from DNP:
2UPCC14 – 4×6 Media for Sony UPCR10L Snap Lab / UPCX1 – Week of April 25
2UPCR154 – 4×6 Media for Sony UPDR150 – Week of May 2nd
UPDATE April 19, 2011
Good news! We received a small shipment of some Sony product late last week. Bad news, as we expected, DNP did raise the price on some items but not by much. Click here to read the email update that we sent out today to our Sony customers regarding pricing and current inventory levels. We are hoping to get more information from DNP later today. Stay posted.

UPDATE April 12, 2011
We sent out an email update to our Sony customers today with updated ETAs for Sony media from DNP. Click here to read the email on our email archive page.

UPDATE April 7, 2011
In February, Imaging Spectrum was assured by Sony that our standing purchase orders with Sony would be filled. If filled, these orders would have stocked Imaging Spectrum with a 6 month supply, plenty of time for the DNP – Sony transaction to take place. In March, Imaging Spectrum's (and all dealers') purchase orders were abruptly canceled.
The good news is that DNP is on track to take over production of Sony media. The bad news is that due to issues with the corporate transition and the tragic tsunami in Japan, DNP is way behind. What does this mean to Sony printer owners? Several media skus will be in very short supply for the next several weeks, maybe months for some and a few items are already unavailable.
Imaging Spectrum is working closely with the new management team at DNP (several are former Sony staffers) to lessen the impact on Sony customers. DNP will be giving us weekly updates on their progress and changing production time-lines. Imaging Spectrum wants to be up front with our customers – we have never been about the hard sell or scare tactics but the fact is some media will not be available for days, weeks, some possibly months. Imaging Spectrum is willing to work with customers to find a solution to their printing needs. Maybe that means using a different size media or exploring offerings from other manufacturers. Please don't hesitate to call or email us if you have any questions or would like to discuss possible solutions with one of our technical sales reps – 800-342-9294. If you would like to receive email updates on the changing situation, click here.
February 16, 2011
Dear customers, friends and associates, by now some of you have heard that DNP has acquired the commercial digital photo printer business of Sony. This acquisition was first announced to Sony dealers in November.  Since then, various press releases, announcements and rumors have surfaced. We thought it best to delay a public position until we could nail down certain details.  As Sony's largest dealer for dye-sub printers and supplies in the US, this is a very important matter to Imaging Spectrum. We also realize that this is an important matter to our customers that use Sony products in their business. We have been working with our contacts at Sony and DNP to ensure a smooth transition.
Here is what we know so far:
As of March 31, 2011, Sony will discontinue the production of printer media
Sony has committed to fill all dealer orders as of March 31, 2011
As of April 1, 2011, Sony is transferring all media assets to DNP
As of April 1, 2011, DNP will begin manufacturing and distributing media for Sony printers
There has been no information as of yet regarding new pricing or part numbers
Imaging Spectrum's position on DNP's acquisition of Sony printer/media business:
Imaging Spectrum expects to have a supply of all media throughout this transition period
Imaging Spectrum expects to honor all orders for reasonable quantities
Imaging Spectrum will not attempt to sell using "scare tactics"
Imaging Spectrum will be transparent by communicating details with our customers over the phone, on our website and blog as they become available
Here are links to various press releases, please note that the information is very limited and quite cryptic: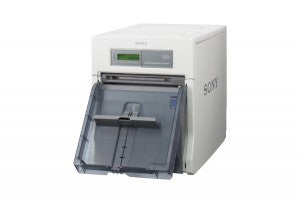 We expect this to be a smooth changeover; however, there may be some bumps along the way. Please be assured that Imaging Spectrum has the best interest of your business at heart. We have many industry veterans on our team, we represent other manufacturers that offer attractive alternatives, and we are here to help you be successful in your photo-related business. Please contact us if you have any questions or concerns.
Best regards,
Eric Woodchek
Co-owner, Vice President Marketing
Imaging Spectrum, Inc.
Link to Sony Products from Imaging Spectrum
Link to DNP Products from Imaging Spectrum
UPDATE July 12, 2011
The good news today is th
UPDATE November 4, 2011
HiT